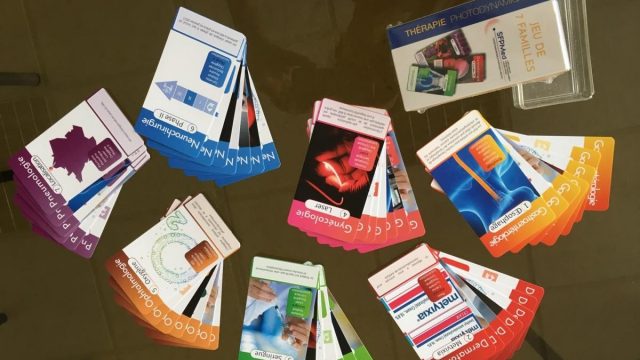 Photodynamic Therapy Happy families Game
The Francophone society of medical photonics (SFPMed) developped a happy families game. It's made of 49 cards that explain in a fun way, what is photodynamic therapy and its uses in France.
For each cancer family (corresponding to each medical specialty such as gastroenterology, dermatology, urology….), you have to find the organ treated (oesophagus, skin, prostate…), the type of molecule used, the form of injection (syringe, cream, powder…), the type of light used (laser, balloon), the oxygen card essential for the treatment, the stage of use (research, Phase I, Phase II, Phase III or market authorisation) as well as the location of the centres using this technique in France.
This project has received funding from the European Union's Horizon 2020 research and innovation programme under the Marie Sklodowska-Curie grant agreement n°764837