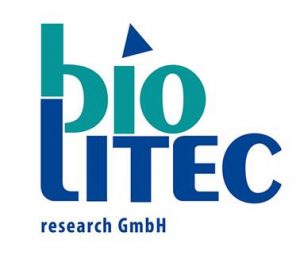 Persons and positions:
Prof. Dr. Volker Albrecht, Research Director, General Manager
Dr. Arno Wiehe, Senior Research Scientist
Background:
Biolitec is one of the world's leading specialists in the production and marketing of medical laser systems and suitable accessories as well as the sole supplier worldwide who provides all relevant core competencies in Photodynamic Therapy. Profound research and continuous development of our products form the basis of our longstanding experience in the field of health care.
Role in POLYTHEA:
Member of the Supervisory Board
Supervisor of secondments and practical rotations. Subject: photosensitizer and formulation development, in vitro uptake and viability studies in cancer cells
Key publication:
Nucleophilic Substitution on (Pentafluorophenyl)dipyrromethane: A New Route to Building Blocks for Functionalized BODIPYs and Tetrapyrroles
R. A. Golf, H.-U. Reissig, A. Wiehe,  Org. Lett. 2015, 17, 982–985.
Aromatic Substitution on Pentafluorophenyl-Substituted Dipyrranes and Tetrapyrroles as a Route to Multifunctionalized Chromophores for Potential Application in Photodynamic Therapy
S. Gutsche, M. Ortwerth, S. Gräfe, K. J. Flanagan, M. O. Senge, H.-U. Reissig, N. Kulak, A. Wiehe, Nucleophilic  Chem. Eur. J. 2016, 22, 13953 – 13964.
Sequential Nucleophilic Substitution of the α-Pyrrole and p-Aryl Positions of meso-Pentafluorophenyl-Substituted BODIPYs
S. Gutsche, B. F. Hohlfeld, K. J. Flanagan, M. O. Senge, N. Kulak, A. Wiehe, Eur. J. Org. Chem. 2017, 3187–3196.
Mannose-Functionalized Hyperbranched Polyglycerol Loaded with Zinc Porphyrin: Investigation of the Multivalency Effect in Antibacterial Photodynamic Therapy
H. Staegemann, B. Gitter, J. Dernedde, C. Kuehne, R. Haag, A. Wiehe,  Chem. Eur. J. 2017, 23, 3918–3930.
Hyperbranched Polyglycerol Loaded with (Zinc-)Porphyrins: Photosensitizer Release Under Reductive and Acidic Conditions for Improved Photodynamic Therapy
H. Staegemann, S. Gräfe, B. Gitter, K. Achazi, E. Quaas, R. Haag, A. Wiehe, Biomacromolecules 2018, 19, 222−238.
Links: