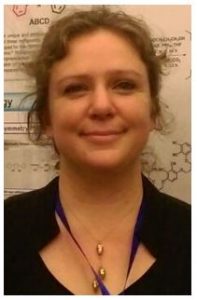 Position:
Assistant Professor, Department of Medical Engineering, Acıbadem Mehmet Ali Aydınlar University
Background:
Assistant Prof. Dr. Fabienne Dumoulin started university studying biology, graduated in Biochemistry then completed her PhD in Organic Chemistry in France in 2002. After a post-doc in Pisa, Italy, she joined the Chemistry Department of Gebze Technical University in 2005, where she got interested in the chemistry, properties and applications of tetrapyrrolic derivatives, mainly phthalocyanines.
She authored so far 70 research articles, three book chapters and supervised a dozen of Master and PhD students.
She has been awarded several Young Scientist Awards: from the Turkish Academy of Sciences, the Bilim Akademisi and the Mustafa N Parlar Foundation of METU.
She chairs the GTÜ-photodynamic days, is an officer of the executive committee of the European Society for Photobiology, associate editor for the RSC Advances journal and for the Journal of Porphyrins and Phthalocyanines, and member of the Turkish mirror group of the European Technology Platform on Nanomedicine.
Role in POLYTHEA:
Member of the International Advisory Board
Key publications:
Porphyrin- or phthalocyanine- bridged silsesquioxane theranostic nanoparticles for two-photon imaging, photodynamic therapy or photoacoustic imaging
Chiara Mauriello-Jimenez,  Maxime Henry,  Dina Aggad,  Laurence Raehm,  Clarence Charnay,  Xavier Cattoen,  Michel Wong Chi Man,  Serkan Alpugan,  Vefa Ahsen,  Deniz Kutlu Tarakcı,  Philippe Maillard,  Marie Maynadier,  Marcel Garcia,  Fabienne Dumoulin,  Magali Gary-Bobo,  Jean-Luc Coll,  Véronique Josserand  and  Jean-Olivier Durand
Nanoscale, 2017, 9, 16622-16626.
Near-infrared activatable phthalocyanine-poly-L-glutamic acid conjugate: increased cellular uptake and light-dark toxicity ratio towards an effective photodynamic cancer therapy
Lik Voon Kiew, Hoay Yan Cheah, Siew Hui Voon, Elena Gallon, Julie Movellan, Kia Hui Ng, Serkan Alpugan, Hong Boon Lee, Fabienne Dumoulin*, María J. Vicent*, Lip Yong Chung*
Nanomedicine: Nanotechnology, Biology, and Medicine 2017, 13, 1447-1458.
Fluorination of phthalocyanine substituents: Improved photoproperties and enhanced photodynamic efficacy after optimal micellar formulations
Barbara Pucelik, Ilke Gürol, Vefa Ahsen, Fabienne Dumoulin, Janusz M. Dąbrowski
Eur. J. Med. Chem. 2016, 124, 284-298
Site-selective formation of an iron(IV)–oxo species at the more electron-rich iron atom of heteroleptic mu-nitrido diiron phthalocyanines
Ümit İşci, Abayomi S. Faponle, Pavel Afanasiev, Florian Albrieux, Valérie Briois, Vefa Ahsen, Fabienne Dumoulin,* Alexander B. Sorokin* and Sam P. de Visser*
Chem. Sci. 2015, 6, 5063–5075
1, 4, 8, 11, 15, 18, 22, 25-Alkylsulfanyl phthalocyanines. Effect of macrocycle distortion on spectroscopic and packing properties
Yunus Zorlu, Ufuk Kumru, Ümit İşci, Burcin Divrik, Erwann Jeanneau, Florian Albrieux, Yavuz Dede, Vefa Ahsen and Fabienne Dumoulin
Chem Commun, 2015, 5, 6580-6583
Links:
https://www.researchgate.net/profile/Fabienne_Dumoulin http://www.gtu.edu.tr/personel/1040/21625/fabienne-dumoulin.aspx