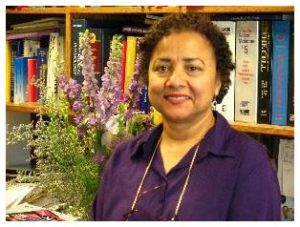 Position:
Professor of Dermatology and Health Sciences and Technology, Massachusetts General Hospital/Harvard Medical School
Background:
The focus of her research is in photochemical approaches to treatment and diagnosis of disease primarily in the areas of cancer and infections. She has over 280 publications and 23 inventions from research funded by the National Institutes of Health (NIH), the Department of Defense and Industry grants. Dr. Hasan leads a NCI funded multinational Program Project grant focused on image-guided treatment of pancreatic and skin cancers and an International consortium on developing low cost enabling technologies for image-guided photodynamic therapy of oral cancer. Dr. Hasan is an inventor of the FDA approved photodynamic treatment of Age-Related Macular Degeneration and several other applications in fields of cancer, infections and technology. In recognition for her contribution to translational work and other discoveries she was the recipient of the NIH Pioneer Award in Biomedical Optics, Bench to Bedside Translation and was featured in a Special Section Honoring Pioneers in Biomedical Optics in the Journal of Biomedical Optics September/October 2010 issue. She received the Lifetime Achievement Award in recognition for sustained innovation and contribution in year 2015 and the significant advancement of photodynamic therapy award in 2017 for research excellence in the field of photodynamic therapy from the International Photodynamic Association. She was awarded the Britton Chance Biomedical Optics Award in recognition of trailblazing contributions to the field of Photodynamic Therapy and its clinical translation, leadership and service to the photonics community at the SPIE Photonics West meeting in 2018 and is the recipient of the Society of American Asian Scientists in Cancer Research (SAASCR) award for 2018, for her outstanding scientific contributions in the field of cancer research, which will be presented at the Annual American Association of Cancer Research meeting in Chicago.
Dr. Hasan has several leadership roles in national and international organizations. She was the President of the American Society for Photobiology (2010-2012), and is the current President of the International Photodynamic Association and has served as the Vice President of Science for the Pan American Photodynamic Therapy Association. She serves on several advisory boards of academic and non-academic organizations. Dr. Hasan is a member of the editorial board of national and international journals and has served as conference chair, sub-section and session chair at national and international conferences.
Dr. Hasan has had a long-term involvement in helping the career development of junior scientists and helped found the Office for Research Career Development (ORCD) at Massachusetts General Hospital (MGH) where she also served as its first Director until 2011. The Posters of Excellence awards at the MGH Office for Research Career Development's (ORCD) Research Fellow Poster Celebration were named "The Tayyaba Hasan ORCD Posters of Prestige" given annually to honor Dr.
Hasan's contributions as the founding director. Her commitment to teaching and training has earned her the William Silen Lifetime Achievement in Mentoring Award from Harvard Medical School. She is also the recipient of the National Postdoctoral Mentor Award, the Tenth Anniversary Mentor Award, from the National Postdoctoral Association. Dr. Hasan was recognized for her dedication to equity in Science, Engineering and Technology and was the Catalyst Award Honoree from the Science Club for Girls in Cambridge, Massachusetts an outreach organization dedicated to encouraging girls from underprivileged background to pursue careers in science and medicine (2010).
Role in POLYTHEA:
Member of the International Advisory Board
Key publications:
Selective treatment and monitoring of disseminated cancer micrometastases in vivo using dual-function, activatable immunoconjugates.
Spring BQ, Abu-Yousif AO, Palanisami A, Rizvi I, Zheng X, Mai Z, Anbil S, Sears RB, Mensah LB, Goldschmidt R, Erdem SS, Oliva E, Hasan T.  Proc Natl Acad Sci Mar 11;111(10): E933-42. doi: 10.1073/pnas.1319493111, 2014. Epub 2014 Feb 26. PMID:24572574. [PubMed – in process]. PMCID: PMC3956156. [Available on 2014/9/11].
Microscopic lymph node tumor burden quantified by macroscopic dual-tracer molecular imaging.
Tichauer KM, Samkoe KS, Gunn JR, Kanick SC, Hoopes PJ, Barth RJ, Kaufman PA, Hasan T, Pogue BW.  Nat Med. 2014 Nov;20(11):1348-53. doi: 10.1038/nm.3732. Epub 2014 Oct 26. PMID: 25344739 [PubMed – indexed for MEDLINE] PMCID: PMC4224611.
A photoactivable multi-inhibitor nanoliposome for tumour control and simultaneous inhibition of treatment escape pathways.
Spring BQ, Sears BR, Zheng LZ, Mai Z, Watanabe R, Sherwood ME, Schoenfeld DA, Pogue BW, Pereira SP, Villa E, Hasan T.  Nat Nanotechnol 2016 Apr;11(4):378-87. doi: 10.1038/nnano.2015.311. Epub 2016 Jan 18. PMID: 26780659 [PubMed – in process] PMCID: PMC4821671 [Available on 2016-07-18].
Beyond the Barriers of Light Penetration: Strategies, Perspectives and Possibilities for Photodynamic Therapy.
Mallidi S, Anbil S, Bulin AL, Obaid G, Ichikawa M, Hasan T.  Theranostics. 2016 Oct 23;6(13):2458-2487. eCollection 2016. PMID: 27877247 PMCID: PMC5118607 DOI: 10.7150/thno.16183.
Photodynamic Priming Mitigates Chemotherapeutic Selection Pressures and Improves Drug Delivery.
Huang HC, Rizvi I, Liu J, Anbil S, Kalra A, Lee H, Baglo Y, Paz N, Hayden D, Pereira S, Pogue BW, Fitzgerald J, Hasan T.  Cancer Res. 2018 Jan 15;78(2):558-571. doi: 10.1158/0008-5472.CAN-17-1700. Epub 2017 Nov 29. PMID: 29187403 PMCID: PMC5771811 [Available on 2019-01-15] DOI: 10.1158/0008-5472.CAN-17-1700.
Links:
http://wellman.massgeneral.org/faculty-hasan pi.htm
http://wellman.massgeneral.org/faculty-hasan-projects.htm