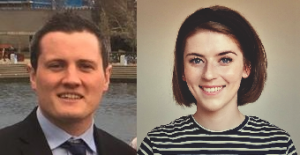 Claire (ESR 8) and Dáire (ESR 3) are our ESR representatives on the Supervisory Board. They were elected by the other ESRs for 1 year, to represent them and take part of the decisions linked to the implementation of the project.
They explain why they choose to be candidates and their mission.
What is your role in the Supervisory Board?
Claire: Our role on the Polythea supervisory board is primarily to consult, communicate and advocate on behalf of the other eight Early Stage Researchers (ESRs) in the consortium. We provide an ESR perspective on certain decisions regarding the project including training, joint activities and other important research issues which arise during monthly supervisory board meetings. The supervisory board also provides an opportunity to address the practical mobility issues which arise with a group of ESRs that is spread across seven institutions and four industrial partners.
Dáire: Our role on the Supervisory board is to be a part of a team that best represents the interests of the POLYTHEA ESRs. This involves approaching the ESRs, collecting their concerns as well as their ideas and bringing them to the supervisory board. After each meeting, feedback is given to the ESRs by me and Claire. The ESRs are encouraged to approach us whenever is convenient for them and I personally think this is a good way to make sure that the welfare of every ESR is prioritized throughout our PhD.
Why did you choose to be a candidate?
Claire: I was pleased to accept the opportunity to be a candidate as I believed it would provide a first-hand insight into how an international research project is managed and coordinated, as well as allow me to represent the views of the other ESRs. Given that I am at a very early stage of my career, this also offered the privilege of interacting with senior and eminent researchers in a context to which few junior researchers gain access. The ESR group decided that it wanted to have equal gender representation and I appreciated the chance to be the female student representative for the first year.
Dáire: I was happy to be elected as a representative of the ESRs. This will provide me with a platform to develop my leadership and communication skills, which I know are of great importance in my future career. I also was eager to know how a high-profile project is run and was excited to communicate with people with an extensive amount of experience in their respective fields. Perhaps what attracted me most to the position was the opportunity to express the views of the other ESRs during critical decisions which I believe will benefit the ESRs during their PhD and the project in general.
What are the benefits? For you and for the project?
Claire & Dáire: In addition to developing communication skills, acting as a board member provides us with valuable insights into research strategy, research ethics, financial management, project planning and delivery, risk management and resource allocation. It also helps us to develop valuable leadership and influencing skills. These transferable skills are closely aligned with the strong career development focus of the Innovation Training Networks projects. In return, we hope to provide colleagues with a helpful avenue to communicate their concerns and suggestions. ESR involvement on the supervisory board, therefore, prompts ESR discussion and helps to strengthen our group dynamic. The presence of ESR voices in helping to make administrative, communication and research decisions will also be a critical factor in the project's overall success.